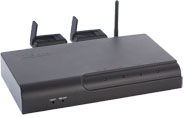 The MB9000 is a new 3G/4G mobile router in Top Global's MobileBridge™ family. It has two PCMCIA slots for 3G/4G cellular cards, and its auto-failover feature enables wireless network connection without interruption even when a cellular link is disconnected. The load balance feature of MB9000 also delivers additional bandwidth for enterprise applications, both for upload and download.

Flexible, easy, on-demand Internet access is available through high-speed 3G/4G cellular networks and is entirely free of additional software/drivers/interface requirements. These features make the MB9000 router an ideal solution for mission critical mobile enterprise applications.

The double wireless WAN connection available with the MB9000 offers the best redundancy, making your network reliable at all times.
When one of the cellular networks is interrupted, the MB9000 will automatically route all data traffic over the other cellular data network. When the defective data path is restored, the MB9000 will then automatically load balance between two wireless networks, efficiently allocating the traffic over the air.

There is a powerful firewall integrated into the MB9000, which includes features such as Stateful Packet Inspection (SPI), Network Address Translation (NAT), MAC filter, Anti-Attack and URL filter. These features protect your network against malicious attacks and offer secure access to resources. The MB9000 also has built-in VPN endpoint supporting ESP/AH/ 3DES/DES/MD5/SHA-1 encryption, giving enterprise users maximum security and protection.

MB9000 supports wireless group management by Top Global Remote Central Management (RCM) software. RCM provides enterprise class management and administration to configure, monitor, and manage Top Global 3G router products, and it can help our customers to reduce network maintenance costs and enhance network management efficiency. The network administrator can monitor all Top Global 3G router devices from his or her computer - no more boring daily maintenance trips needed.